Here's What To Do for Sports-related Mouth Injuries
posted: May 09, 2022.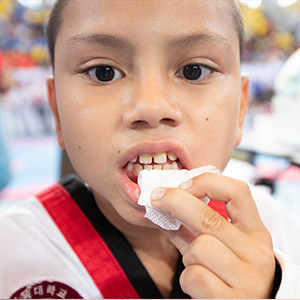 Children love to be active, and need to be to grow up healthy. But participating in sports and similar physical activities does harbor a risk for injury—especially involving the mouth.
Many oral injuries can be prevented, though, by wearing an athletic mouthguard during sports or other physical activities. Available in retail stores or custom-made by a dentist, mouthguards help cushion the mouth against hard contact.
But although a mouthguard minimizes oral injury risk, it can't eliminate the risk altogether. There's still a chance for oral trauma during physical activity. Here are some common injuries that could happen, and what you can do to lessen their impact.
Chipped teeth. A hard knock could cause a piece of tooth to chip off. If this happens, try to retrieve any chipped pieces and carry them with the child to a dentist as soon as possible. Teeth should be examined immediately after this kind of trauma and the dentist may be able to re-bond the broken pieces.
Displaced tooth. A severe blow could move one or more teeth out of place, loosening them or pushing them deeper into the jaw. Teeth with these kinds of injuries are in serious danger, so you should contact your dentist immediately. If after office hours, they may tell you to visit an ER for prompt attention.
Soft tissue injuries. The lips and other soft areas of the mouth can also become cut or bruised from a hit. Clean the area as well as possible, making sure there are no imbedded bits of dirt or tooth. Apply gentle, continuous pressure to stop any bleeding and cold compresses for swelling. If it's a deep cut, go immediately to an emergency room.
Knocked-out tooth. Although a serious injury, a tooth knocked completely out of its socket might still be saved through prompt action. First, find the tooth; handling it only by the crown end, clean off any dirt or debris with clean water. Gently place the tooth back into its socket and have the child bite down on gauze or a clean cloth to hold it in place. You should then go to a dentist or ER immediately.
If you would like more information on children's dental needs and care, please contact us or schedule an appointment for a consultation. You can also learn more about this topic by reading the Dear Doctor magazine article "Children's Dental Concerns & Injuries: Would You Know What to Do?"
Tags: dental injury